Services include
Brick/ Flagstone Patios
Outdoor entertaining areas
Outdoor Fireplaces
Seating Walls
Retaining Walls
Hot Tubs
Decorative Rock Installation
Natural Stone Walls
Ponds, Fountain and Water Features
Shrub and Tree Installation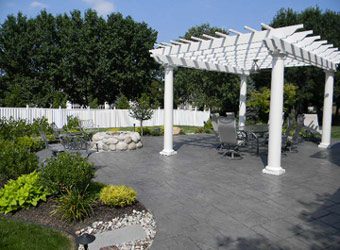 Residential Landscape
Are you looking for a cozy hideaway? A patio for entertaining? Landscaping for a hot tub, gazebo or pool? Garden beds and pathways…trellises and arbors…decks…stone walls…foundation plantings. H&R Lawn and Landscaping can "pull it all together" and design the right landscape for your lifestyle.
Commercial Landscape
Commercial landscapes of all types are designed and built by H&R Lawn and landscape. From cutting-edge rooftop gardens to street plantings, community spaces and commercial shopping centers, we are always working to make every part of Kansas City a greener world.